The manor house of Sztaray

The manor house – a still preserved former seat of the noble family of Sztárays – belongs to the most precious historical architectural objects in the territory of Micha¬lovce. It houses the Zemplín region museum from 1957.
The buildings of the manor house complex are located in the area of original medieval castle. Already in the period of renaissance were rebuilt the utilizable parts of this stone architecture for a more convenient seat of a manor house type. During the baroque rebuilding in the 18th century was added the first floor and towers to the front facade and there were also made new staircases. At the beginning of 19th century, during the latest great reconstruction, i. e. the classicist one, the builder H. Koch added the annex of ground floor lateral wings and thus the manor house gained a layout of irregular U letter shape thus creating the so-called courtyard of honour (cour ď honeur).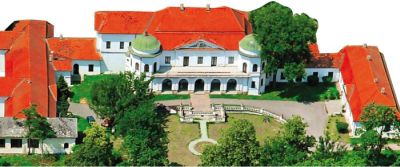 The Sztárays owned the Michalovce manor house continuously from the mid 18th century until 1944. Various legends are connected with the manor house – e.g. about the mysterious underground corridor or about the white lady. Near the manor house an object was erected in the 19th century of splendid horse stable with flats on the sides for servants. The late renaissance building of so-called old manor house, situated in the park, was erected approximately in mid 16th century. It originally served for housing purposes as a separate manor house or mansion, later started its utilization for economic purposes like the seat of the administration of Sztárays' estates.
The development of Michalovce was closely connected with the Sztáray family for more than two hundred years – from this family we can mention Anna Brown, née Sztáray (the lady-in-waiting of Mary Christine, the daughter of Austrian empress Maria Theresa, at governor´s court in Bratislava), and Irma Sztáray (the lady-in-waiting of empress Elizabeth of Bavaria, called also Sisi – Irma was accompanying the empress also during her walk in Geneva when Elizabeth was assassinated).
Map and POI

Zoom