Mousson's house

Building of observatory in Michalovce was originally built as villa according to an order from members of county family called Sztaray.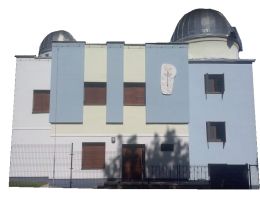 There exist an information from second half of 18th century related to the fact that Count Michal Sztáray (1747 – 1798) ordered to build summerhouse with beautiful view of the landscape. The villa on Hrádok Hill belonged to Count Anton Sztáray (1839 – 1893).

Family of the painter Teodor Jozef Mousson settled in the villa on Hrádok Hill in 1931. Count Alexander Sztáray rented the villa to the artist, because they knew each other personally. At remote romantic place, surrounded by marvellous nature, the painter felt happy. Living in the villa was cosy but modest. They had to carry water from the well, there was not electricity, that is why they had to use petroleum gas for the lights. They only had one battery radio among all conveniences of technique at that time. Later the painter annexed an atelier (to the North part of the house), where he spent more and more time gradually. Mousson lived in the villa until 1944.
.
Map and POI

Zoom