Building of Grosz palace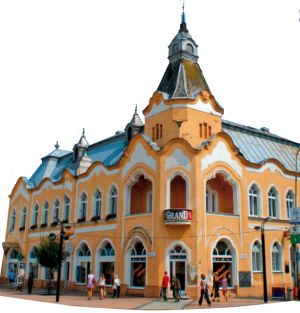 Originally spread in this area a swamp and in the 19th century was situated here the inn of count Sztáray.
The proper object of Grosz palace was built around 1905 in a style of local art nouveau of Hungarian provenance (the architects of the building were G. Papp and F. Szabolcs, whose original surname was Grosz and therefore the name of the palace is derived from his name).
The object is typical by its corner square tower, completed by hammers – symbols of metallurgy. In the wing towards the street was originally situated the hotel and the remaining part served for housing purposes.
In the period between two world wars the object housed "Dunajská banka" (Danube Bank), later on "Sedliacka banka" and you could find here also a goldsmith's shop, watchmaker's shop, shops, restaurant, office or apartment. Following the second world war there were placed here a pharmacy and part of the premises served also for the needs of a Bistro (fast food services).
Map and POI

Zoom