Bank palace

In 1911 was erected on the then Deák square a new bank palace of the Michalovce trade and credit bank, a. s. (joint stock company) that still belongs to the jewels of architecture in Michalovce.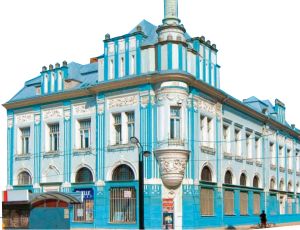 The building was built in a classicist style with minor pseudo-rococo scenes on the facade. In the court can be found a small atrium. On the ground floor of the object were located in the past almost incessantly various banking institutions (for a lon-gest period Tatrabanka or the Czechoslovak State Bank), other facilities oriented towards the street were occupied by small shops and minor operating units with different services and on the floor were located ambulances, offices of lawyers and residential facilities.
The plastic art objects of bees, craftsmen, farmers and boatmen of the facade were to symbolize industry and the beehives saving behaviour.

Nowadays it houses the Zemplín public education centre and also a restaurant, the editorial office of regional newspaper and other organizations.
Recently there is a very likable endeavour for the "revival" of local bank vault.
Not far from the building, at the end of Gorký street, is situated the historical object of the former Michalovce cinema Capitol dated back to years 1927 – 1929.
Map and POI

Zoom