Chapel of St. Antony of Padua

The chapeI on Hôrka (Hrádok) is considered to be a free copy of gothic Chapel of St. Mi¬chael in Košice. It was count Anton Sztáray who got the idea to erect a neo-gothic chapel – a family tomb of Sztáray family. However, he did not survive its realization and he died only some days before the beginning of construction (Viliam Fröde – a German architect, author of the design – was assigned to manage the building works that started on 2nd September 1893).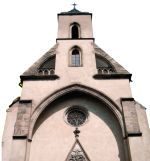 It means that the construction was funded by the administrator of the property of Sztáray family or count's wife Františka Batthyány. The ChapeI of St. Antony of Padua on Hrádok was completed and consecrated in 1898.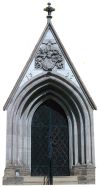 ln the belfry is placed a bell that was cast by Ferencz Valser in Budapest in 1894 and over the entrance in the tympanum is highlighted the coat of arms of Sztáray family with an engraving reading 1893. There were buried in the chapel and in front of it the members of Sztáray family or their relatives.
Near the chapel is situated the Graveyard of Red Army, a vast Jewish graveyard and a house where lived and worked the painter Teodor ]ozef Mousson (nowadays it is an observatory).
Map and POI

Zoom